Playing Information:
* New Boule players welcome -- the game is easy to play and pick up. You just need to have a try.
You can be 8 or 80+, fit or unfit, large or small.
We have sets of boule (in different sizes) so you can see how you get on.
* New players are covered by English Pétanque Association insurance while they are trying the game.
* After playing 3 times you are expected to apply for Membership of the Club and apply for an English Pétanque Association licence. ( the EPA Licence then provides ongoing insurance. )
* Visiting Boule Players are also welcome, if they hold an EPA or other country licence. After playing up to 3 times they are expected to apply for Membership of the Club.
*
Membership
You can become a Member whether your EPA Licence is obtained through Fareham Petanque Club or you hold a licence via another club or association.
However only Members with EPA Licence issued at FPC can play for the Club in League matches.
The Membership classes are:
For more information about Membership contact:

Linda Ashmore (Membership Secretary)



( email to the id below will be passed to her)

Club Night
- Wednesday nights, from about 7:30, for practice. Even in winter ..... ;-)

New players are welcome.

This is your chance to come along and have a go


(members will explain the basics and show you how to throw a boule).

Or just have a look.

.

Note: On the First Weds in the month there may be an informal competition ( a £1 melee). 7:30 sharp.

And look out for our 'Come And Try' Events.
.
For General Information on the Game

go to Playing - Click here to find Pages about Pétanque
.. including:
Basic Introduction (quick guide on how you play)


Pointers to the Full Rules


More Information


....
.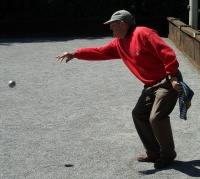 .