.
Dec 2015
Last event of 2015:
FPC are holding a pre Christmas Mêlée on Sunday 20th December at the Community Centre 10am to just after 1pm when all are welcome, the more the merrier as it can be a nice fund raiser as well as wishing everyone a good season.
We hold a raffle and have hot soup and mince pies etc afterwards

CLUB CLOTHING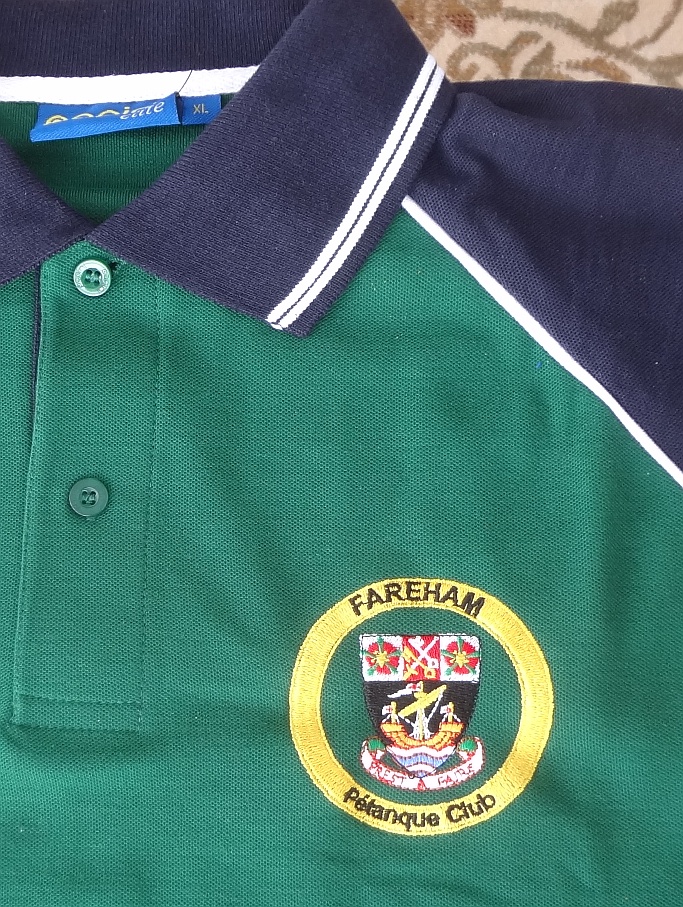 The new Club Shirt, with embroidered badge. (note colour rendition may not be accurate due to lighting).
Also available: Sweatshirt and Fleece.
Dec 2013
Fareham Petanque Club Official Opening by The Mayor 18 Dec 2013.
Held inside due to torrential rain.....
VIPs there (in photo left to right):

Hampshire County Councillor Geoff Hockley,
Fareham Council Executive Member for Leisure & Community Councillor Connie Hockley,
Councillor Peter Davies (representing Fareham North West Community Centre),
Derek Ashmore of the Fareham Petanque Club development team,
the Mayor of Fareham Councillor Susan Bayford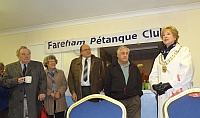 Nov 2013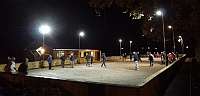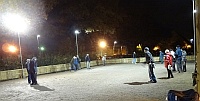 The first night's play at FNWCC 20/11/2013
Apl 2013
Safety of players is important. So we make available a copy of a Generic Risk Assessment, produced by member Jed Stone to assist anyone running an event.
Available as a 'PDF' to just print off ....Get PDF
or as a 'Word' document so you can download a copy and adjust or 'top and tail' it as necessary. ....Get DOC


............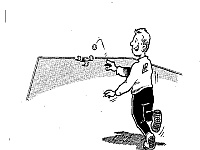 The Fareham Pétanque Club

The follow-on Club from Limesdowne Pétanque Club of Catisfield ( 25 Years Old in 2009)

Pétanque (Boule) for the community at Fareham
Member Club of the Southern Counties Pétanque Association
(affiliated to the English Pétanque Association)
The Fareham Pétanque Club has two 15m x 24m pétanque terrains for playing boule, with floodlights. Each should have slightly different surfaces to add interest.
It is located adjacent to the North-West Fareham Community Centre, Henry Cort Drive, Fareham PO15 6PH on the western edge of Fareham in Southern Hampshire, England.


Pétanque: Many people have seen the French playing Boule when on holiday. It's actually a sport played in many countries world-wide and it's very easy to pick up.

It is enjoyable even if you are a new player playing with (relative) experts. An ideal sport for all the family - all ages from 8 - 80+ can play together.
(if you can't bend down to pick up the Boule - just put a magnet on a piece of string!).
Play: 'Club Night' is every Wednesday night, from about 7:30, for casual play for fun.
Even in winter ....... ;-)
New players are welcome. Come along and have a go
Members play just for fresh air, exercise and enjoyment, or can represent the Club in its teams.
The Club runs several teams in the Southern Counties regional 6-a-side and 9-a-side Leagues, runs various events mostly at weekends, and takes part in events at other clubs too.
Fareham PC prides itself on being a very friendly club, welcoming to new players and with lots of cameraderie amongst members.

There is often a match on a Thursday evening - you are welcome to come along and watch
For more information see our other pages (use buttons above)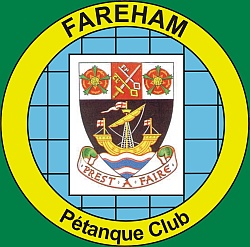 ...
...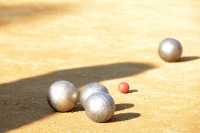 THE GAME
The idea of the game is to throw your (round metal) boule so it finishes up nearer the target 'cochonnet' (jack) than your opponent(s).
What makes it especially interesting is that the playing surface is definitely uneven. So you need to adjust the boule direction; and power; and trajectory; and landing place; and avoid (or deliberately knock) the boule(s) in the way.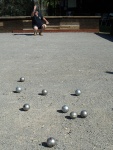 .
.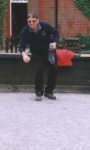 .


You can throw from a standing position....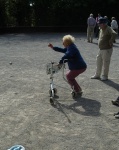 .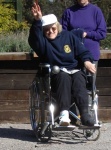 Or with support if neccessary....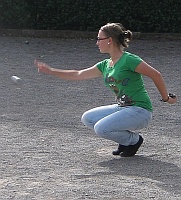 .
Or from a squat if you like (and can)....