The Limesdowne Pétanque Club was widely known as a friendly club.


The Fareham Pétanque Club intends to continue this reputation as a friendly club.

Some members play just for fun (and fresh air, and exercise).

Some like to compete more seriously in the leagues.

And some the regional competitions. And national competitions.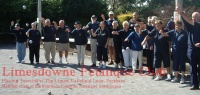 TWINNING
The Club has a regular inter-change with Pétanque players from the Isle of Wight. Usually the Club goes over there once a year for a competition day, and they come here once a year (though some do also travel over to enter some of our competitions too)
For many years the Club also has had a twinning arrangement with Vannes, in Brittany.
On alternate years the Club travels to or hosts a visit from French players and family members. This involves staying with families, social events, meals, some pétanque and some 'national' activities. (for example, a little while back the french visit coincided with the conker championship at Holly Hill park......) .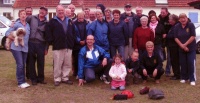 A group shot during a Limesdowne visit to Carnac, while in Brittany.

SOCIAL

Club members also go on Pétanque-playing holidays, eg to France and Spain.
At home, the Club Social Secretary arranges other non-Pétanque activities. Meals out; trips; ghost walks; etc., etc.

There has also been a strange habit of celebrating a senior member's birthday with a 'performance'.





(but don't even ask about the visiting belly-dance troupe......)


The FAREHAM PETANQUE CLUB

OFFICERS/COMMITTEE for 2016 are:
| | | | |
| --- | --- | --- | --- |
| PRESIDENT | JACKIE LEE | | |
| TREASURER | DAENA VINCENT | | |
| COMPETITIONS / EVENTS SEC | MALCOLM McKENZIE | ... | |
| MEMBERSHIP SEC | MARY SHEPPARD | | |
| LEOPARD OAKS Nines CAPT. | PAUL HAYWARD | | |
| ACORNS NINES CAPT. | TIM VINCENT | | |
| CONIFERS Sixes CAPT | JACKIE LEE | | |
| MAPLE LEAVES Sixes CAPT. | SUE McALEESE | | |
| REDWOODS sixes CAPT. | DAVID KILSHAW | | |
| SOCIAL SEC | JACKIE CHURCHER | | |
| COMMITTEE MEMBER | vacant | | |
| YOUTH DEVELOPMENT OFFICER (YDO) Co-opted | MARK ROBERTSHAW | | |
Note: the names of the Club teams were revised for the 2015 season..........
CLUB WORK
Maintaining our terrains and surrounds involves regular 'work parties' to muck in and renew fencing, paint, weed, tidy up, replace lights, and so on.
For example the Limesdowne Club was fortunate to obtain grants in recent years to enhance facilities. So enthusiastic groups of members have laid concrete; erected a storage shed; build a very useful players' shelter, renewed terrain surfaces, etc.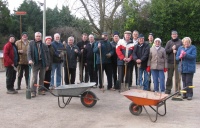 A happy work party (including help from our friends at Admiral Cunningham Pétanque Club)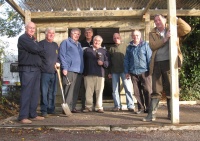 Another work party (celebrating the finish of a build project, utilising a grant from the Hants & Isle of Wight Community Foundation).


Fareham Pétanque Club members continue the practice
CHARITY
For many years the Club has devoted one or two of its competitions to raising funds for its nominated charities, as well as assisting other causes such as the Mayor's charities..
Competition entry fees and excellent raffles etc. produce good sums for these deserving causes.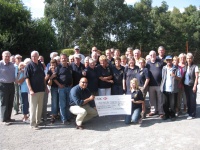 In 2009 the Club made a special effort in aid of Macmillan Cancer Care, aided by some extra events organised by then-President Tony Hewitt.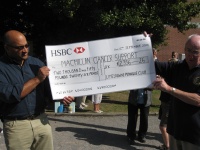 This resulted in the Club generating a marvellous donation of £2,356.26 (photo shows Tony Hewitt (r) presenting the cheque.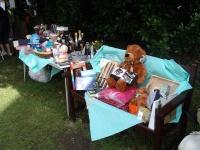 Macmillan raffle table (on another year)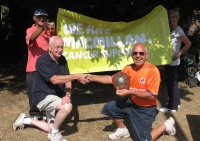 Macmillan competition winner - Danny Corp.