Where?. . . . . . . .
- The Limesdowne Club pétanque terrains were at The Limes (public house, now closed), at Catisfield Lane, Catisfield PO15 5NN, on the western edge of Fareham in Southern Hampshire, England.


- The Club is now called the Fareham Pétanque Club and is located just over a mile away at:
Fareham North-West Community Centre (FNWCC)
Henry Cort Drive,
Fareham PO15 6PH
FNWCC is just outside the gates of the Henry Cort Community College

..
Directions for those who knew where The Limes was:
From The Limes go back onto Highlands Road
Go North.
Just after the Texaco/Coop on your right
You cross the railway
Turn LEFT into Hillson Drive
Follow that (it bends sharply right)
And take turning LEFT to Henry Cort College.
Terrains are on RIGHT, before school

For almost all photos, just click on the image to see enlarged version....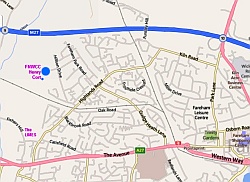 MAPS / AERIAL



If you use a mapping/aerial view program
such as GOOGLE EARTH

you can enter in its search line the postcode
PO15 6PH

or just put in "Henry Cort Drive"
(there doesn't seem to be another one in the world!)

or the exact geographic coordinates
50°51'40.80" N 1°12'56.69" W




or go to the Google Maps site showing Henry Cort College
by clicking on http://goo.gl/maps/ePWWM



and if you prefer the BING mapping program just click on
http://binged.it/1dP5fZ6






.