Quick Navigation links:
&nbsp
Catisfield in Maps
Places, People and Parts

Catisfield - More about where it is
A TIMELINE of Catisfield across the years

click here: TIMELINE

Example entries:
1210 First mention of Catisfield (as paying a tax to Fareham - in the Pipe Roll of the Bishop of Winchester)
1316 CATESFELD held by the Bishop of Winchester
1445 Henry VI & Margaret of Anjou traversed Fishers Hill to or from Titchfield Abbey from Southwick, for the reconfirmation of their marriage in France (hence the name of the bridge)
1841 The Census showed a population of 192. 33 houses, 16 agricultural labourers, 10 bricklayers, 27 servants, etc
Papers, Reports, etc:-
Most Recent Additions......
---
NEW 01/2022:
The End of Colonel FRANCIS EDWARD BRACE -
His rather rapid SUICIDE, INQUEST & FUNERAL. (And Was it at Catisfield Lodge - or Catisfield House?)
last update 1/2022
---

NEW 12/2021:

CATISFIELD HOUSE:- ITS OCCUPANCY THROUGH THE YEARS

New work on a comprehensive 'TIMELINE'
=== Who might have lived there, with evidence......
last update 1/2022
---
NEW 2021:
CATISFIELD LODGE - Its Residents and Events through the years
---
NEW 2020:
Schools in Catisfield Through the Years ( v1)
Catisfield (Hampshire) ROADS and their evolution.
---
Information Summaries about each of the people named on the dedication tablet/plaques for WW1 and WW2:

NEW 11/2018: Details amplifying the Plaque at St Columba
NEW 8/2018: Details amplifying the Plaque at The Memorial Hall
Catisfield Memorial Hall WW2 World War 2 Dedications
---
Cricket - last update 5/1/2018 covering Catisfield Cricket Club -- an active, well-regarded club, in the 1860s, 1870s, 1880s..... Catisfield Cricket Club

---
Older Papers

Papers


---
.
---


go to the main Catisfield page ..

General information about the Village



MAPS -- a sequence of Maps from 1611 to 196x that will give you an insight into how Catisfield. has grown and changed
( Maps of CATISFIELD - Reworked 2/2017 and c. 20 maps 1610-196x added)

click here: MAPS


- Catisfield in Maps from the 1600's onwards



(examples: Catisfield in 1810 and 1864 )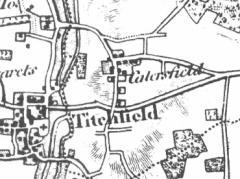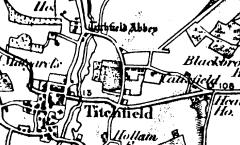 ..