'FAREHAM PAST & PRESENT' (ISSN 0960-1023 -- Background )
ln 1960 a group of people came together at Price's School to form a local branch of the Workers' Educational Association and make a study of the Fareham area. They went to various lectures and began searching through old documents and finally brought their research together with the first publication of Fareham Past and Present in February 1965 at the price of one shilling. Miss Alice Hilton was the leader of the study group and becarne over the years the Editor of a very popular booklet selling about six hundred copies by the second edition in August 1965.
By Autumn 1984 the format had changed from the old stapled together pages to a more compact booklet of A5 pages, including photographs. Miss Hilton, now Mrs Alice James, was the Editor helped by her husband Lieutenant Commander 'Jimmy' James and they continued this partnership for many years, producing two booklets a year and occasionally an extra at Christmas.
ln 1994 Pam Wendon retired and, having bought several of the booklets over the years, joined the Fareham Local History Group and met Mrs James. ln 1997 she wrote her first piece of research 'The Gingerbread Man of Fareham' and offered it to Alice and it was accepted for the Spring edition.
Over the next few years Alice gave Pam documents of various kinds, some dating back to 1650, that had been found wet and decaying in a skip. She wrote them up briefly before they were sent to the Record Office for safe keeping. They appeared under 'More from those six sacks' in most editions.
By 2002 both Alice and Jimmy were finding it a strain to get the edition together in time for the usual date. They were still typing on an old typewriter and addressing the envelopes to the mailing list clients by hand. Pam typed up several articles for them and amazed Jimmy by presenting him with addressed labels. The mailing list of about 200 took two days rather than a long tiring week.
ln Spring 2003 Alice and Jimmy decided it was time to give up in order to regain their health. Alice had been producing Fareham Past and Present for 45 years and had found it increasingly difficult to cope with the hard physical work, such as delivering nearly 500 books arounnd the Iocality and finding suitable storage in the home. The need to get the booklet to the printers in time had become a worry as was the difficulty of typing up the articles.
It was decided that Mrs Anne Baxandall should take over the running of the monthly local history group at the Westbury Manor Museum and Pam would take over the production of Fareham and Present.
Fareham Past and Present continued to be published twice a year and contained the the usual mixture of local memories and serious research but gradually problems arose. Publishing involved typing out A5 pages separately and handing the printers, Studio 6, a batch of 60 loose pages. They then had to cut them to arrange them in a printable order to fit their machines. This cost money and time. Then Sarah at the printers, offered to show how to present the work in a more efficient manner for everyone.
However the economy took a down turn and FP&P outlets began to close. Postage went up and sometimes, for no obvious reason the booklet was judged to be over 100grams and other times under. This was solved by reducing the number of pages to 56 instead of 60 but postage increased and several faithful overseas readers were paying more in postage than the book cost and gradually dropped out.
Sales have continued to decline as more and more is available on the net. lt is no longer cost efficient to continue the production of the booklet. So, it was have decided that Autumn 2016 will be the last edition. FLHG have asked if anyone can over but there have been no offers. Maybe in the future someone will start it again.
.
F.P.& P. - ISSUES / CONTENTS


The following consolidated Contents Lists are available on line:

Volume VII and Volume VIII
(Issues 82 to 95) Books VI to XVIII
Spring 2009 to Autumn 2015

combined with

(Issues 96 to 97) Books XIX to XX
Spring 2016 to Autumn 2016

Sequenced by Issue Number: Index by Issue Vols 7 and 8



Volume VI
(Issues 76 to 81) Books I - VI
Spring 2006 -- Autumn 2008

Sequenced by Issue Number: Index by Issue Vol 6



Volume V
(Issues 61 to 75) Books I to XV
Autumn 1998 - Autumn 2005

Sequenced by Issue Number: Index by Issue Vol 5




Volume IV
(Numbers 46 - 60) Books I to XV
Spring 1992 - Spring 1998

Sequenced by Issue Number: Index by Issue Vol 4



And IMAGES of an index (ie as a .PDF file )

Volume I

Issues 1 to 15

Sequenced by Topics: Topics Vol 1



also as a further example:

The Autumn 1991 Edition
(Book XV Volume III) was the 45th Edition, containing 52 pages. The items in this edition covered:
1 Editor's Notes
2 Courts, Prokes. Places & Yards - 0.W.J.Hurden
5 Price's School - K. Harrison & A.J.
12. The Hamble, River of my Boyhood - A.T.P. Cooper
14 Fareham Council Workmen - A.J.
15 Some Rerniniscenses of Fareham - R. Sanders
19 Staff at Timothy Whites - Mr. Worfold
20 Drama in Fareham Creek - J.O. Hall
23 Poor House & Paupers - Mrs. A. Baxandall
25 Russel Place - E.C. Davis
26 The Mill House at Peel Common - J Small
28 The Riggles Family - Mrs. A. Hayter
29 Knowle Hospital - F. Hoare
33 I Remember - Mrs. K. M. Mouland
35 Who's For Tennis - A.J.
36 Fareham, in the 1920s - Miss M.E. Jelley
41 My Garden of Memories - A. Swatton
42 Down End and East Cams - Mrs. J.C. Shepherd
46 Information Required - A.J.
47 Some Modern Memories - Mrs. F. Barton
49 Extract From Deeds - A.J.
50 Corrspondence & Information



It is hoped that, sometime, the full text of some of the issues of FP&P will be published here.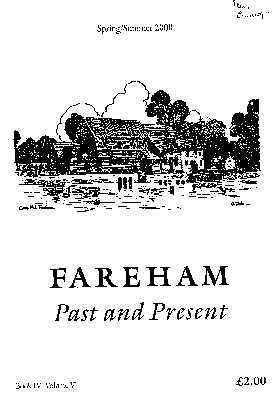 F.P.& P. PAST ISSUES


Sets of copies of the FP&P magazine are held by


Fareham Library (Reference section),


Fareham Museum


and the Hampshire Records Office (HRO).
.

.

BACK NUMBERS available as at Autumn 2016


At £1.00

Autumn 2004
Spring 2005
Autumn 2005
Spring 2006
Autumn 2006
Spring 2007
Autumn 2007

At £1.50

Spring 2008
Autumn 2008
Spring 2009
Autumn 2009
Spring 2010
Spring 2011
Autumn 2011
Spring 2012
Autumn 2012
Spring 2013
Autumn 2013


The above are still available. Please add postage of 60p for one booklet, 85p for two, £1.10 for three etc. (U.K.2016). Ask re postage abroad.

Please make cheques out to Fareham Local History Group and forward to Mrs P. Wenden, 21 Eastern Parade, Fareham, Hants.PO16 0RL

(It may be a good idea to email Pam Wendon at email address at base of page to check the postage cost is correct for where-ever you are.)